Columnist: "Eyes to the Sky" and "Our Place on Earth"
The Broadsheet • The Broadsheet Daily • The Berkshire Eagle • Other Selections

"Eyes to the Sky" The Broadsheet in print & online
Print edition published every new and full moon. Broadsheet Daily published online weekdays.
The Broadsheet, March 16-31, 2014
Eyes to the Sky
Vernal Equinox, Sap Moon, Golden Mars
by Judy Isacoff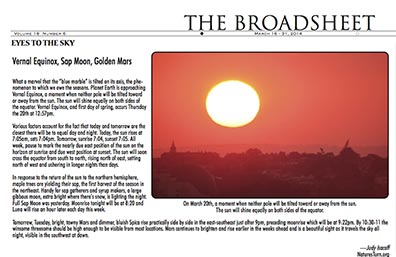 click to read

Dear Editor:
Thank you for publishing the articles about the comet! I actually bundled up on a windy, cold evening and sat in Hudson River Park watching the horizon. I didn't see the comet, but with the clues provided by the articles ..... I understand that I was searching the wrong part of the sky. The moon was glorious, and I was happy I tried. If it's clear enough I'll make another attempt.
In our urban environment, with constant ambient light, it's a special treat to view astronomical events. Your column keeps us aware of the rest of the universe, beyond our city.
--Shelley Seccombe
The Broadsheet, March 1-16, 2014
Eyes to the Sky
Zodiacal Light, New Moon, And the Last Week of True Sun Time
by Judy Isacoff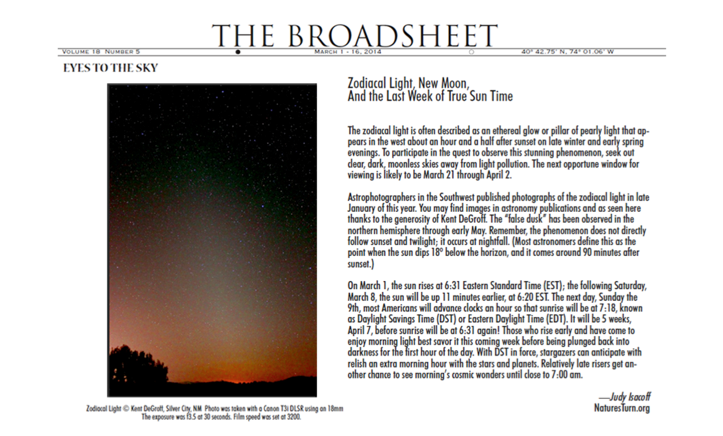 click to read
The Broadsheet, December 3-17, 2013
Eyes to the Sky
Song of the Morning Sky with Four Planets
by Judy Isacoff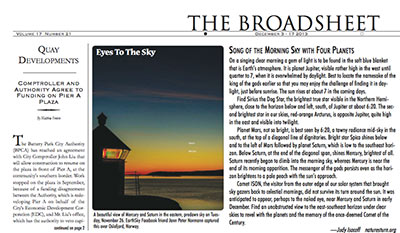 click to read