Programs
WHO WE ARE
Nature's Turn founded by Judy Isacoff, brings nature indoors and people out. Since 1976, Nature's Turn has pioneered interdisciplinary, hands-on workshops and gardening programs in diverse venues, from spas to international conferences. The goal is always to affirm participants' contact with earth and sky and inspire caring for all environments.
WHAT WE DO
Nature's Turn programs celebrate our part in the natural world and nurture participants' sense of wonder and sense of place by cultivating keen observation skills in urban, suburban and rural environments.
PROGRAMS DESIGNED FOR
K-12
Special Education & At-Risk Populations
Teacher In-service
Conferences, Cultural Venues
PTA, Garden Clubs
Libraries, Camps
Family & Community Groups
Recreation & Renewal Destinations
Lifelong Learning Centers, Seniors
Individuals
PROGRAMS ADAPTABLE TO: An hour, a day, course sequence & residencies. Fees upon request.
ART FROM RAW MATERIALS - Ecology and Arts Workshops
The fascination of creating art or craft objects using natural materials. Where possible, participants enjoy a discovery walk and gather materials on site. Conducted indoors or outdoors.
Choose from:
Beads From Trees
Plant Dyes
Leaf Crafts
Beeswax Candle Dipping
Wild Collage
Twig &/or Cone Sculptures
Wood Scrap Construction
Weed Mobiles
Teacher Workshop: Beads From Trees
Capital Region Center for
Arts-in-Education, Albany, NY

I liked when we made wooden necklaces and when we went outside and looked for tracks. I liked it because I learned a lot about nature. Sincerely, Chris, Grade 4 Sheffield, MA
I never knew that you could use a weed tree to make a nice necklace. I got one of the nacher books from the library. Thanks again, Sean, New Haven Public Library, CT
ANIMALS IN THE CLASSROOM
Chooose from:
Mother Hen Visit:  The wonder of a visiting bird at school.  Ideal introduction to EGG HATCHING unit.  Includes sampling of eggs of many sizes and colors for follow-up research and cooking.  Fertile chicken and/or duck eggs optional.
The Cultured Earthworm: A close-up on red wigglers and their eggs.  See how earthworms turn vegetable waste into earth. Learn how to raise earthworms at home and at school.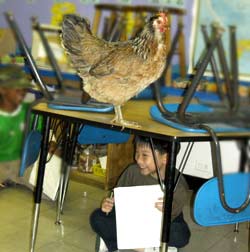 Little Red Hen Visit
Manhattan Country School, NYC
Did you bring an animal to school today? Chorus at Manhattan Country School, NYC
I like Judy she is pretty... I like her teaching us about nature. She is nece to me. Roseann, Saddle River, NJ

HEAVEN, EARTH & THE ARTS
Choose from:
Nature Journals:  Language and visual art responses to environments.  An opportunity to be in the moment and enjoy a sense of place through sketching and writing poetry or prose.  Collaborative  and individual exercises.
Shooting Stars:  Toy-making that involves a little sewing, a lot of joy and a thought to meteor showers.
Sun Prints:  Delight in experimenting with solar energy, found objects and artistic composition.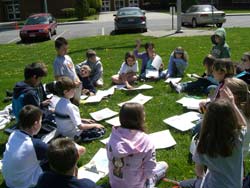 4th Graders Sharing Their Observations
Mill Road School, Red Hook, NY
Dear Ms. Judy Isacoff,
I am especially thankful that you came, for 3 reasons. 1. That you gave me a more artistic impression for drawing trees and plants; 2. That you helped me identify more trees and plants; 3. You gave me a little sample of some different sticks that have a nice scent. Your friend, Miss Veronica Claire, Grade 6, Pittsfield, MA
FOODS IN THEIR ORIGINAL WRAPPERS®
featuring hand tool technology
Choose from:
Thresh, winnow and grind various grains, crack nuts and seeds, churn butter, sprout edible seeds.  Take turns at an apple peeler-corer.  Savor honeycomb.
Plant wheat grass for an edible garden-in-a-pot.
Make ice cream the old-fashioned way.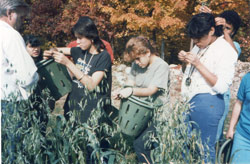 South Bronx H.S. 9th Graders
Studying Grain, Fellowship Community,
Chestnut Ridge, NY 
What I liked doing the most is grinding the corn. Ian
I liked when we maked buter. But what I liked to doow the mose was make our baner [wild-dyed cloth squares]. I liked the hiches best of all. The sap was varry good. I loved woercing with you. Sincerely, Cristina, Grade 2, Mill Road School, Red Hook, NY
EXPLORING
Think like a Native American, close to the land and engaged by the sky. Develop greater knowledge of your environment, wild and built, with a sensory awareness walk. Attention to architecture, natural features and fostering environmental stewardship.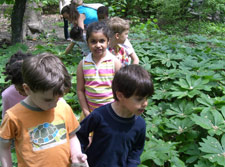 Pre-Kindergarteners Explore
Woodland May Apple
Manhattan Country School, NYC
When I look up under a tree it calms me down, it relaxes me.  It makes me feel happy, and makes me good.  By Tim, Reid Middle School, Pittsfield, MA
GARDENING: INDOORS & OUT
Choose from:
Potted Plants - soil science and plant propagation. Mix the nutritious ingredients of potting soil, make an "eco-pot" and plant a seed, seedling or plantlet.
Outdoor Gardens - design, dig, discover soil organisms, fertilize and plant curriculum-driven gardens or a single bed around a school sign, in a street tree pit, etc. 

Details? See Landscapes for Learning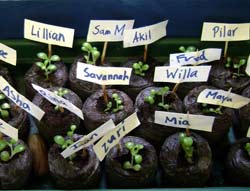 Kalenchoe Plantlets by Second Graders
Thank you for teaching us about the earth and helping plants to grow, and singing the song to help them grow. I liked tasting the weeds and holding the worms. Sincerely, Ashley Lynn, Grade 4 Colonie, NY
WILD FOODS
A five-senses exploration of the edible landscape. Look at twigs, leaves, flowers, berries, pods, nuts and roots with an eye to their edibility. Learn about the parts that are edible in other seasons. Tap and drink the sap of maple and sweet birch trees in spring. Forage, nibble, cook.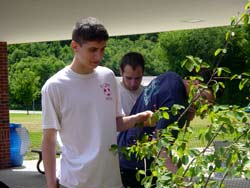 Student Tastes Shadbush Fruits
Red Hook High School, Red Hook, NY
We're still working on the shagbark hickory and the sassafras. Everyone's doin a good job. Thank you!
From Joe

OUTDOOR/INDOOR SCULPTURE FOR ALL
Superb for first-time sculptors, once-in-a-lifetime sculptors as well as fine artists. The material to be sculpted is a soft rock made by mixing materials the night before carving. Free-standing and reliefs. Whether you want a special touch for a wall, a free-standing accent for the home or garden, lawn or doorstep, or finials for fence posts,  this workshop is for you. Ages 10 & up.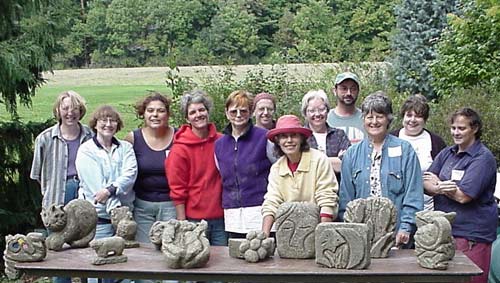 Institute for Ecosystems Studies, Millbrook, NY
Everyone wants another session! Let's schedule it! IES Education Director